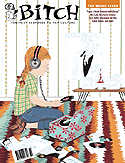 Bitch: Feminist Response to Pop Culture
When people use the phrase "bad body image," it's often assumed this refers to anorexia and bulimia, conditions endemic to white and middle-class female teens and traced to the media and cultural notions of propriety, self-control, and success. Adios, Barbie editor Ophira Edut, co-founder of HUES magazine, has put together a collection of young voices that aims to step back from the vanillafied idea that bad body image means skipping dessert and logging obsessive hours on the StairMaster. These twenty-five essays go far beyond "I hate my butt and I'm gonna tell you why" to bring body image into multiple and overlapping realms of family, race, school, and sexuality.
Here, body image extends to the idea of remaining a virgin until marriage, which, as Keesa Schreane explains in "Appraising God's Property," means being made to feel selfish or foolish or overly proud. In "Intimate Enemies," Jennifer Berger describes the experience of living with a series of elaborate and dangerous food allergies and the queasy irony of hearing women tell her they'd switch places with her if it meant being so thin. Mira Jaccob, the author of "My Brown Face," recalls her younger self asking her Indian mother "Why don't you ever smile when people tell you you're pretty?" and growing up to realize that, when faced with men who saw in her face only an exotic country to try and "colonize," she's just as closed. And in "My Jewish Nose," our own Lisa Miya-Jerivs explores the implications of the fact that legions of assimilated girls are urged to lop off the most visible reminder of their heritage--not by makeup ads, but by their mothers and grandmothers.

If you want an answer to the question of why women bond over hatred of their bellies, skin, and hair in front of other women but never quite connect the same way over loving those things, you won't necessarily find it here--if Adios, Barbie makes one thing clear, it's that understanding the many ways in which we're defined, discounted, and distringuished by ourselves and others is never a done deal. Many of the essays read with a palpable sense of struggle and reticence, illustrating the ingrained reluctance to be the one chick in the locker room smiling instead of frowning at her reflection in the mirror--but it's this girl-taboo that the writers strive to break with no apologies. (Erin J. Aubry does it particularly succintly in "The Butt: Its Politics, Its Profanity, Its Power" when she concludes "I don't have an issue. I have a groove thing.")
And while that lean, mean, plastic she-devil is invoked more than once--most enjoyably in Susan Jane Gilman's now-classic "Klaus Barbie, and Other Dolls I'd Like to See"--Adios, Barbie goes a long way toward pointing out that, though the media is plenty powerful in conspiring to separate girls and their bodies, our own reconceptualization of ourselves can be just as potent. (Andi Zeisler)