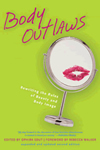 The third edition has an even newer cover
"Adios" to Adios, Barbie:
The story of a lost book title
I was born on December 2, and so was my first book, Adios Barbie. In 1998, Seal Press published my anthology Adios Barbie: Young Women Write About Body Image and Identity. It's one of the first books to cover body image from a multicultural perspective. Twenty-eight young women expand the idea of body image to include race, ethnicity, sexuality, safety, health, and power—commonly overlooked factors that are integral to the way women feel in their bodies.
On December 2 of the following year, my publisher received a "birthday suit" from Mattel, the toy company that makes Barbie. Seems that the Barbie leg™, hairbrush™, heart charm™, and pump™ that appear on the cover of Adios, Barbie are trademarked items. (Get™ the™ idea™?) And Mattel wanted to sue™.
Although Seal Press believed it had gotten appropriate clearance, the notoriously aggressive Mattel (which has as many suits as an overstuffed Barbie wardrobe) accused Seal Press of a trademark infringement, and demanded that every book be shredded.
Fortunately, the New York Times broke the story, and the ACLU contacted Seal Press. They defended Adios, Barbie on the grounds of free speech. Seal Press, being an independent press, didn't have the funds to finish winning the case. But Mattel did agree to settle. The remaining unsold copies of Adios, Barbie are safe from the pulping machines. And the book will be allowed to keep its contents. It republished September 2000 with a different title and cover. Oh, and (I'm not kidding) no pink text was allowed.
My toy story has a happy enough ending. The book was reincarnated as Body Outlaws, and has since sold 40,000 copies. Although I wish I could have kept it as Adios, Barbie, republishing gave me a chance to add a few new essays (even a couple written by men) and re-introduce it to the world.
Now I just wonder what will happen on my next birthdays. And to be safe, I'll make sure the frosting on my cake isn't pink™.